Gutter Protection Systems Will Protect the Gutters of your Connecticut Home from Storm Damage.
Gutters redirect water away from the foundation of buildings to prevent moisture from entering. When your gutters become blocked by leaves and debris, the home is susceptible to serious damage. The foundation may begin to slowly rot over time or the basement could become flooded during a heavy rainstorm. If your gutters are properly aligned to the house and do not have irreparable cracks or dents, we recommend a Leaf Off protection system.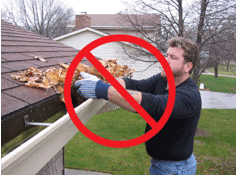 At Town & Country Seamless Gutters, we professionally install Leaf Off gutter protection systems that prevent your downspouts and gutters from getting clogged. These guards are installed using a patented sturdy-clip that secures Leaf Off to the top of your gutters. The Leaf Off system is strong enough to withstand winds up to 90 miles per hour! Any precipitation that enters will redirect debris to the ground; maintaining clean gutters also helps to extend their lifespan.
Our team can install a durable Leaf Off gutter system on your property to redirect water from the interior, keep insects and rodents out of your roof and prevent premature rust. Its Dura-Life paint finish is fade-resistant and will never blister, peel or split. We specialize in:
Leaf off gutter system
Gutter protection system installation
Gutter protection system repairs
Commercial and residential gutter protection system replacement
Call Town & Country Seamless Gutters today to be prepared for heavy winds, rain, and snowstorms with a Leaf Off gutter system. Our team has the experience and resources to properly fit gutter guards to your home or business.